Kitchen
Each apartment features an abundance of 'little luxuries' to make your stay just that little bit more comfortable and inviting. With chilled French sparkling to share on your private balcony, as you watch the sunset over the turquoise lagoon, fresh baked local bread, and coffee flown in specially from a famed Sydney coffee house, just in-time for your arrival; you have all the incentives you need to ensure a seamless transition into holiday mode, as soon as you step off your flight.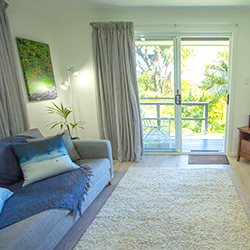 Living Area
Our two apartments boast a spacious living area, with complimentary fast WiFi enabling you to keep in touch (if you choose to) and a flat screen TV, sound system and DVD player to make sure you have everything you need for a cosy night in.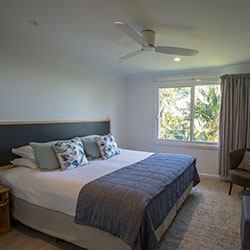 Bedroom
A French linen clad generous King size bed make a good case for staying in bed all day, but the breathtaking views of the beautiful lagoon and towering mountains from your bedroom window will entice you to at least make it out to the balcony to enjoy the morning view and a decadent coffee.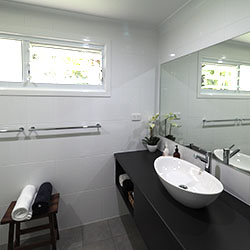 Bathroom
The stunning raised sink is a perfect addition to this generous bathroom, handmade EST soaps and Matakana Botanical 'Macadamia and Wild Fig' toiletries, accompany plush towels, a hairdryer and a generous mirror to ensure your beach hair is styled perfectly.
And if that wasn't enough….
We provide all the essentials for a beach getaway; beach towels, beach umbrellas, picnic sets and backpacks in each room even a yoga mat if you feel like some holiday exercising other than exploring your beautiful Lord Howe Island backyard.
If you prefer to dine at home, we also have BBQ facilities where you can cook your fresh local produce dinner whilst watching the sunset from your backyard, the perfect way to end your day.
Airport transfers and nightly dinner transfers (if required) are also included, as are a self-serve guest laundry and transit lounge facilities.